Meet the Veterinarians & Team of Kleinpeter Veterinary Hospital in Baton Rouge, LA! We're pleased to provide exceptional vet care for your pets! Please call us at 225-756-0204 to speak to one of our caring veterinary staff members!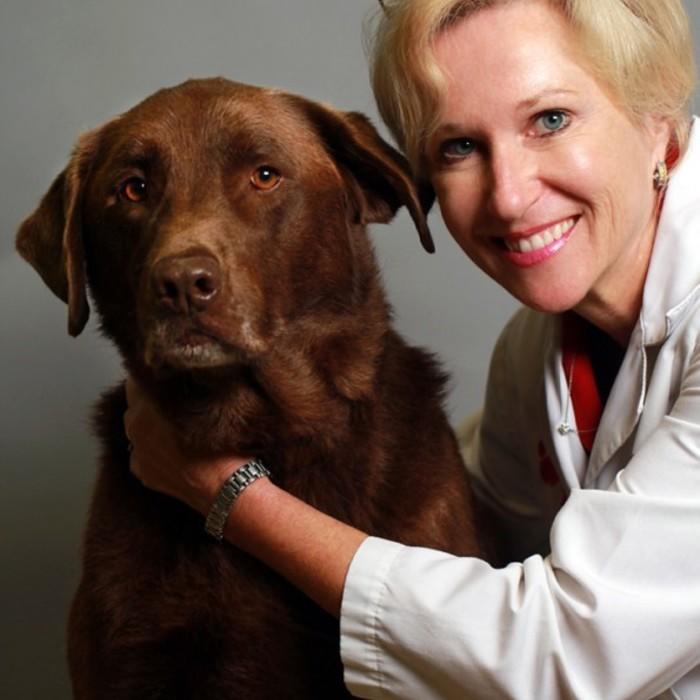 Dr. Donna Kleinpeter DVM
Dr. Donna Kleinpeter grew up all over the United States, starting in California, and finishing up in 1970 in Shreveport, Louisiana. She obtained her Bachelor of Science degree from Louisiana State University in 1982, and then went on to Louisiana State University School of Veterinary Medicine to get her Veterinary Degree in 1986. Since then she practiced in several multi-doctor, high-volume hospitals in New Orleans and in Baton Rouge. She opened Kleinpeter Veterinary Hospital in October, 1998 and has seen her practice grow from three employees to thirty-five, and four doctors. The hospital prides itself in being a full service practice, with grooming, day stay, boarding, internal medicine, and surgical capabilities. The hospital also has two full capacity generators that operate instantly during power outages and hurricanes.
Dr. Kleinpeter has been married to Leon Kleinpeter for over 26 years. They have one child who is currently in college and three dogs (JD, Charlie, and Luke), several cats at home and in the clinic (Olive, Truman, Thing 1, and Jenny).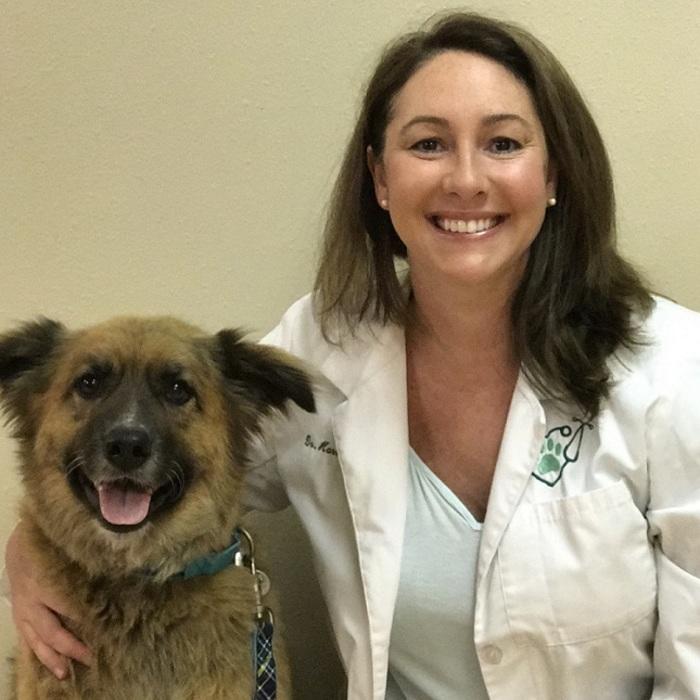 Dr. Harriett Latkovich DVM
Dr. Harriett Latkovich grew up in a small Arkansas town and attended Arkansas State University where she received her bachelor's degree in Animal Science. Following graduation, she was accepted into Ross University School of Veterinary Medicine. Dr. Latkovich came to Louisiana to finish her clinical studies at Louisiana State University School of Veterinary Medicine in 2001 before receiving her doctorate in Veterinary Medicine from Ross University in 2003. After marrying her husband Thomas, she began working at Kleinpeter Veterinary Hospital as the senior associate in 2004 and has been a member of the KVH family since that time. During her time with us, she has had two wonderful children – Thomas Jr. and Isabella. She is the proud mom of two fabulous cats – Penny and Sheldon – and her rescue dog Moses.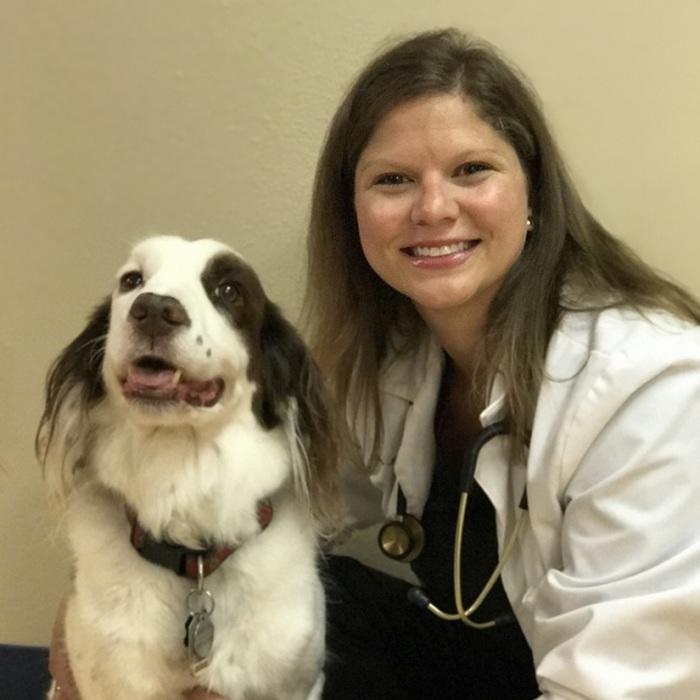 Dr. Melanie Schroeder DVM
Dr. Melanie Schroeder grew up in Baton Rouge and began her veterinary career as a veterinary assistant while attending LSU. Dr. Schroeder received her B.S. in dairy science from Louisiana State University in 2009 and attended LSU School of Veterinary Medicine in Baton Rouge where she received her Doctorate of Veterinary Medicine in 2013. Upon graduation she moved to Monroe, LA to work in a high volume, family oriented small animal practice. In 2015 Dr. Melanie got engaged to her now husband, Logan, and moved back to Baton Rouge where she worked as both a relief veterinarian in the area and an emergency veterinarian at a local animal emergency clinic. Together they have three dogs (Deuce, Harper, and Winston) and two cats (Huey and Oliver). When away from work, Dr. Schroeder enjoys cooking, traveling, and spending time with family.
Dr. Sarah Cothron DVM
Dr. Sarah Cothron grew up in Baton Rouge, Louisiana and attended Louisiana State University receiving a bachelor's degree in 2008 in Animal Science. She was accepted into Veterinary School at LSU and received a doctorate in Veterinary Medicine in 2011. After graduation, Dr. Cothron worked in a high volume, emergency clinic in Louisiana for 3 years before accepting a position as an associate at Kleinpeter Veterinary Hospital in 2014. She enjoys all aspects of veterinary medicine, but has special interest in dermatology, emergency medicine and surgery. In her free time, Dr. Sarah enjoys traveling, gardening, cooking and spending time with her husband Chris and their son Beau, and their dog "Henri" and cat "Louie".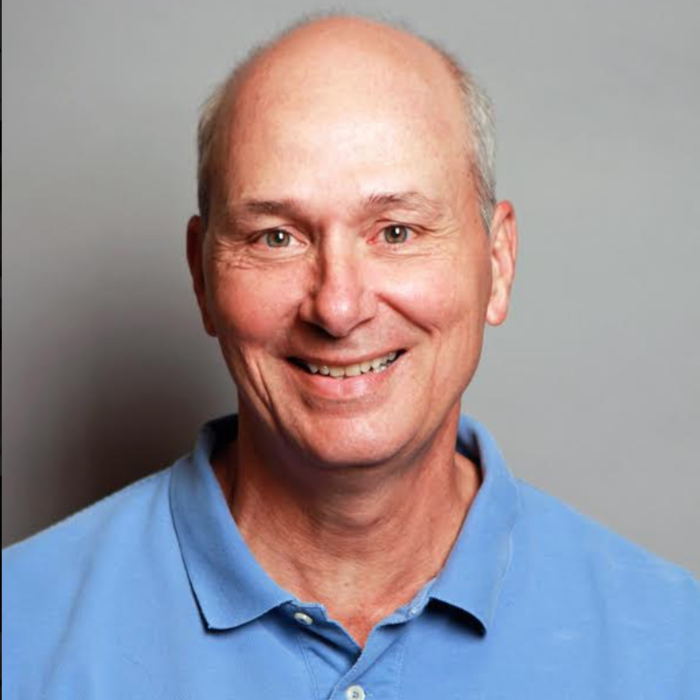 Leon Kleinpeter, III Practice Manager
Leon Kleinpeter is the husband of Dr. Donna Kleinpeter. Together, they started Kleinpeter Veterinary Hospital in the fall of 1998. He has a BS in business adminstration and an MBA from LSU. Prior to the opening of Kleinpeter Veterinary Hospital, he managed a purebred beef cattle operation and continues to manage real estate investments. His hobbies include golf, hunting and traveling to visit their daughter.
Jeannie Delaughter Assistant Office Manager
Jeannie Delaughter is our assistant office manager. She grew up down the bayou in the small town of Napoleonville Louisiana and has always had a big heart for all animals. Helping her mom board and care for dogs in their home is what made her want to continue working and caring for animals. She began working for Kleinpeter Veterinary Hospital in July of 2006 as a kennel technician, was a vet technician for 2 years, and now continues to work as a receptionist and supervisor. She enjoys the connections she has made with a lot of our clients and their pets. Jeannie now lives in Dutchtown with her daughters, Caroline and Emma and stepson Izaac. They have two pets, a dog, Toni and their cat, Jack Jack. On her days away from Kleinpeter Vet, Jeannie loves to spend time with her family and friends, and enjoys having fun with her children.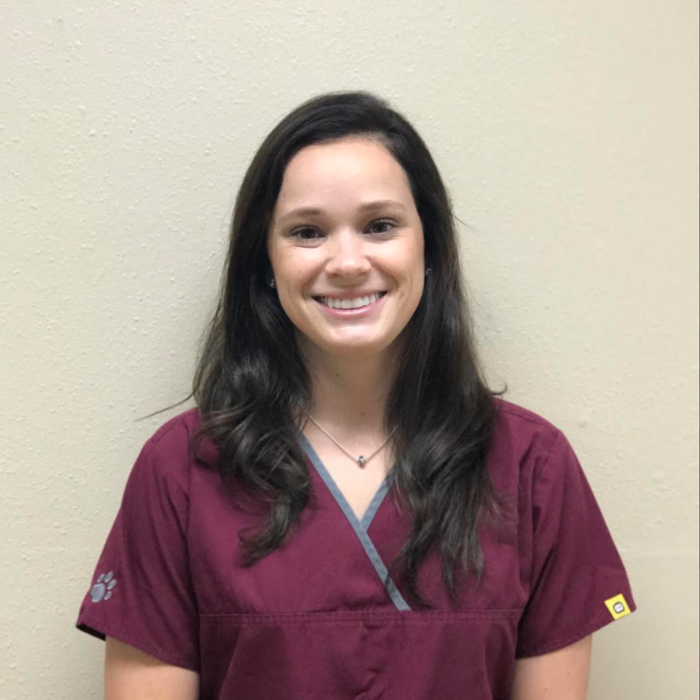 Brittany Bolton Boarding and Daycare Supervisor
Brittany is our boarding and day care supervisor. She grew up in Pineville, Louisiana where she loved being surrounded by animals. This put her on the path to Baton Rouge where she attended LSU from 2007 – 2011. Along the way she joined the Kleinpeter staff in May of 2009 as a receptionist and kennel technician. Kleinpeter quickly became family, and after graduating from LSU with a Biology degree in 2011 she came on as a full time employee. She now lives in Baton Rouge with her husband Taylor Bolton
and their pets, Maggie, Finn, Huck, and Rory. When not at work she enjoys lunch dates with friends, the movies, and spending time with her family.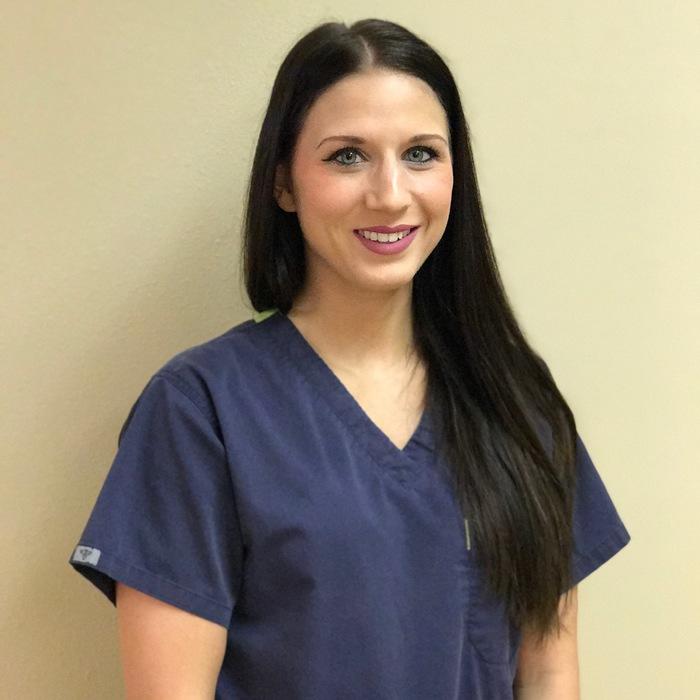 Rebeka Knezevich Marketing Administrator
Rebeka Knezevich is our marketing administrator and supervisor who grew up in Slidell and moved to Baton Rouge to attend LSU in the fall of 2008. She began working for Kleinpeter in the spring of 2009 as a kennel technician. Throughout college, she worked various areas of the clinic. After completing her degree in Animal Science in May 2014, she decided to stay with the Kleinpeter family as a full time receptionist and overhead our marketing department. She enjoys seeing the pets happy and having fun while they're here and tries to share these moments via social media for our clients to see.
She currently lives in Baton Rouge and has two cats, Sheeba and Link. On her days away from work, she enjoys spending time with friends, cooking, gaming, and participating in obstacle races.